Louisville Car Accident Attorneys
Car accidents are the most prevalent cause of injury and fatality in the U.S. In Kentucky alone, more than 700 people are killed and upwards of 25,000 others are injured in auto accidents each year. Often, these accidents result in injuries that can:
Prevent victims from working and supporting their families
Have significant impacts on their quality of life
Require extensive, ongoing medical treatments, likely triggering a growing stack of expensive medical bills
Auto accident victims may be entitled to compensation for all or some of these damages. Hiring a personal injury attorney is the most important step in determining the best options for financial recovery following a car accident. At Murphy & Associates, PLC, our expert Louisville Auto Accident Attorneys are dedicated to fighting for victims' rights and helping them financially recover from the harm caused by auto accidents. Skilled at protecting and advancing our clients' rights in any legal setting, our Louisville lawyers are ready to help you determine and pursue your best options for financial recovery following a car crash.
Louisville Car Accident Statistics
Car accident statistics for Louisville are reported based on the data for Jefferson County. According to some of the latest findings, each year in Jefferson County, KY, there are:
Nearly 30,000 car accidents
More than 60 fatal auto crashes
About 8,040 injuries resulting from these collisions.
An average of 148,500 auto accidents occur.
About 600 of these crashes are fatal.
Nearly 23,000 of these accidents involve nonfatal injuries.
Additionally, state car accident data for the past few years reveals that there has been a nearly 4 percent increase in the rate of traffic crashes and deadly auto accidents in Kentucky.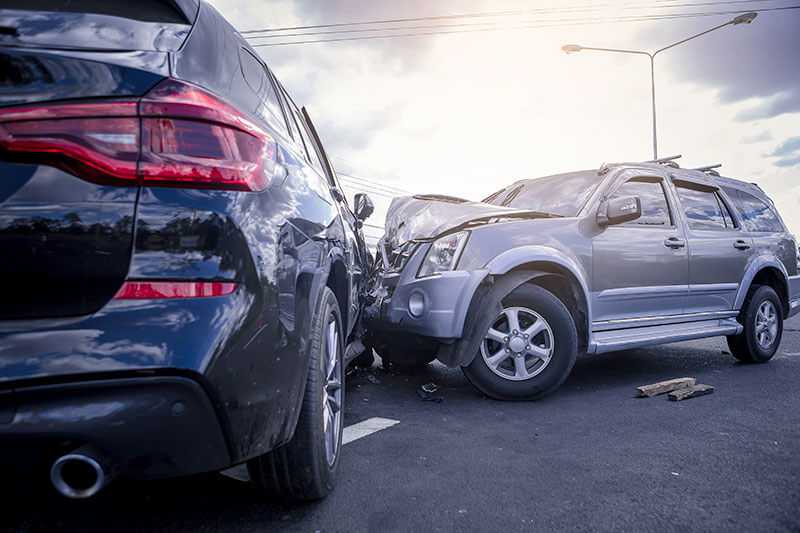 Financial Recoveries for Auto Accident Survivors
When car accident claims and cases are successful, victims can receive damages that include (but are not necessarily limited to) compensation for:
Medical expenses
Lost wages and earning capacity
Future projected earnings
Loss of consortium
Pain and suffering
Punitive damages (in some cases)
Funeral and burial expenses (when families pursue car accident cases after losing a loved one to a deadly auto wreck).
We understand that there's no amount of money that can ever make up for serious, permanent injuries and/or the loss of a loved one. However, we are also aware that these recoveries can be critical to alleviating victims' — both crash survivors and families who have lost loved ones — financial stresses during difficult times as they focus on healing. And that can be essential to restoring their lives.
Auto Accident Insurance Claims
In Louisville (and throughout Kentucky), the first $10,000 in medical bills and lost wages related to auto accident injuries can be paid by a victim's own insurance company through a provision is known as PIP (personal injury protection) or BRB (basic reparation benefits). However, medical bills and lost wages often exceed $10,000. It is important that these benefits are directed in the best way to serve your needs. When additional medical treatment is difficult to obtain, a personal injury attorney can help you work with medical providers to make sure you get the treatment you need. Your attorney will often be able to get medical providers to agree to payment after the settlement. Here, it's also important to note that, when it's time to work with insurance companies for any portion of your financial recovery:
Do not trust the insurer(s) to be on your side, regardless of how sympathetic they may seem.
Insurer(s) are generally looking out for their own interests and bottom lines.
Insurer(s) have teams of people working on trying to limit payouts and/or deny claims (to protect their profits).
The best way to protect yourself when dealing with insurance companies for auto accident claims is to retain an experienced attorney who can represent you and work with insurer(s) on your behalf.
How to Report an Accident to a Louisville Auto Accident Attorney
To report an auto accident in Louisville immediately after it occurs, call 911 or the non-emergency police number, which is (502) 574-2111 (suburban Louisville) or (502) 574-7111 (urban Louisville). Immediately reporting auto accidents to police is central to making sure that police investigate the crash and that an official police report is developed. The police report commonly details important facts about the crash, some of which can be pivotal to establishing fault and obtaining the full amount of compensation to which victims are entitled. Examples of the information contained in police reports for Louisville auto accidents include (but are not limited to) specifics regarding:
When and where the accident occurred
The involved motorists, all victims and/or any witnesses
The weather and road conditions at the time of the crash
Whether any involved motorist was issued a citation and/or arrested after the crash
The findings of the police investigation for the crash.
To request a copy of a police report for a car accident in Louisville, 
click here
. If police are not called after the crash and the property damage resulting from it totals at least $500, then by law, a police report will have to be filed with the Louisville Police Department (PD) within 10 days of the crash. To file a police report for a car crash with the Louisville PD website.
Contact a Louisville Car Accident Lawyer at Murphy & Associates, PLC
If you have been injured in a Louisville auto accident – or if you have lost a loved one to a deadly car crash, you can get experienced help pursuing compensation and justice by contacting a trusted Louisville car accident lawyer at Murphy & Associates, PLC. Our team of experienced lawyers is dedicated to:
Protecting the rights of those who have been injured by the negligence
Providing effective, vigorous legal representation in any legal setting
Providing personal service and support
Fighting to help our clients succeed in their financial recoveries.
To get professional advice from one of our Louisville attorneys and find out more about how we can help you, call us at (502) 473-6464 or email us using the contact form on this page.
We welcome your call or email from anywhere in Kentucky, Indiana, or elsewhere throughout the Midwest or South. All case evaluations are free, and we work on a contingency fee basis. This means that YOU OWE US NOTHING IF YOU DO NOT GET PAID. We only get paid when we recover money for you. There is no risk to you. You can have an attorney working on your case today!
Murphy & Associates is made up of a team of experienced and professional attorneys. We will seek justice by your side every step of the way. As one of our clients, you can expect trustworthiness, loyalty and guidance throughout the entirety of us working together. Contact us today by giving us a call for a free case evaluation.